MGMF
Introduction

Mary Guruama Memorial Foundation (MGMF) is a non-profitable organization established in 2003 by a group of senior members from Nepali Isai Mandali (Gyaneshwor Church). Initially the main purpose of the organization was to provide food and shelter for helpless and destitute elderly women in need. As time went by more areas were identified which were equally important like poverty, illiteracy, education of poor children, lack of basic knowledge about personal and family hygiene, different kinds of communicable diseases and natural disaster which had an adverse effect specially on the marginalized group of people. A more careful analysis of these problems led to the realization for the need to provide a community development service to address these problems focusing on following activities: women empowerment through income generation program, non-formal education with an emphasis on literacy, health and hygiene, disaster preparedness, youth empowerment and strengthening and utilization of local resources. The church council voted to register Mary Guruama Memorial Foundation.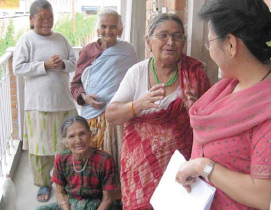 Accordingly MGMF was registered with the government of Nepal (Reg. No 408-062-063, Home Ministry and District Administration Office Kathmandu) and affiliated with Social Welfare Council (SWC Affiliation No 19046). A residential service for destitute people has been running since 1995.
MGMF is committed to support the needy families of the church and the neighboring communities through direct and indirect development and spiritual programs.
Vision
To transform the community socially, economically and spiritually.
Mission
To help improve the social, economical and spiritual life of the disadvantaged and young people by providing skills and training to equip them to be self-sufficient.
Purpose
The Mary Guruama Memorial Foundation aims to assist poor children, unemployed women and young people by providing food and shelter, non formal and formal education in order to live a life of dignity. MGMF also aims to provide basic education on HIV/AIDS, disaster preparedness through workshop and awareness programs, as well as provide basic help to victims of natural disaster.
Goal/Objectives
The specific objectives of Mary Guruama Memorial Foundation, Nepal are;
To provide food, shelter and spiritual services to the helpless and poor especially elderly.
To provide scholarship to needy and disadvantaged children to enable them to complete their high school education.
To build capacity of grassroots level women's group.
To work with other organization and be thorough to raise the awareness of women and children on health, HIV/AIDS.
To develop income generation programs.
To create awareness at regional levels for disaster preparedness.
To help reduce the poverty of the disadvantaged people by providing skill, training and other assistance.
To address the national issues on peace and justice by networking.
To support government activities as programs to help the disadvantaged improve their quality of life.
Values
Faith in God and His guidance
Unified system, holistic approach
Equality and equal opportunity
Integrity
Love
Transparency
Respecting social and cultural values
Working Approach
Mary Guruama Memorial Foundation Nepal works under the guidance of God and encourages spiritual growth through the transformational Love and Care of Jesus, to reach the unreachable and improve their quality of life through spiritual and developmental programs.
1. Direct Program
Non Formal Education – To facilitate the ability to read and write
Scholarship Program – To encourage children to complete up to school level education
Income Generation – To uplift economic status
Self-esteem building – To build confi dence and integrity
Counseling – To live a balanced life
Shelter – To help elderly people
2. Indirect Program
Skill training – To strengthen capacity of local groups
Saving and credit cooperatives – To empower economically
Workshops – To bring awareness about current issues
Disaster preparedness – To help, prevent or mitigate disasters
Networking -To achieve Millennium Development Goal
Present Activities
Non formal education
Income generation
Skill training
Scholarship
Relief services
Networking on HIV/AIDS, environment and health
Ambulance service for neighboring communities and church members.
Contact Us
NIM
Mary Guruama Memorial Foundation
P.O.Box: 1131
Maligaon Kathmandu, Nepal
Tel: (977 1) 4414489,
Email: nim@wlink.com.np
www.nim.org.np